Lapworth Ladies Supper Club
Lapworth Ladies meet monthly on the first Wednesday of every month, from October to March.  Meetings take place at various venues (hotels and golf clubs) within easy travelling distance of Lapworth, and they include a three course meal and an after dinner speaker.   The talks are both informative and entertaining.  If you are interested in joining the Supper Club, please feel free to contact Jacqui 785022, Yvonne 783595 or Heather 783638 for more information.
You can view and download the Lapworth Ladies Supper Club Programme of Events from October 2019 through to March 2020 and a Booking Form by clicking here.
You can also download a Lapworth Ladies Supper Club Membership Subscription Form by clicking here.
---
Read all about us . . .
​
On Wednesday 4th March Lapworth Ladies Supper Club held its last meeting of the season at Henley Golf and Country Club.
We were well looked after by the staff and enjoyed a starter of spicy parsnip and apple soup, followed by chicken cooked with fresh thyme served with a choice of wild mushroom and tarragon sauce or roast chicken gravy, accompanied by roast potatoes and seasonal vegetables. Dessert was a very generous piece of sticky toffee pudding (much lighter than it looked!) topped with butterscotch sauce. Coffee and tea with mints were served as we got ready to listen to the speaker.
Dr Gillian White came to talk about Bess of Hardwick and her links with Chatsworth House and Hardwick
Hall. She was such a clear speaker she had no need to use a microphone and we all heard every word! Gillian has a way with words that brings alive the characters she is describing. She had several slides that she used to good effect and made us laugh, gasp and groan whilst secretly educating us at the same time!
Bess of Hardwick was an amazing lady of her era, from being married for the first time at 14, surviving five husbands, giving birth to eight children and dying at the age of 81.  She became the Countess of Shrewsbury when she married George Talbot the 6th Earl of Shrewsbury, an elevated and well connected position. She was also close to the Queen and was saved from financial ruin by Elizabeth. When Bess moved into Hardwick Hall she was the richest woman in England after Queen Elizabeth.
We learned a lot more about her family, and how astute Bess was. Hardwick Hall has not been altered since it was built and is well worth a visit. It was a very interesting and lively talk!
Our next meeting is not until September 9th at Packwood House Garden Kitchen Cafe at 7.30pm.
We will give you details of the speakers and venues for the coming season, you will be able to pay your subscriptions, and enjoy a drink and canapes.
We look forward to seeing you there!
---
On Wednesday February 5th Lapworth Ladies Supper Club met at Olton Golf Club.
We had chicken pate to start with, infused with sherry, accompanied by red onion chutney and toast.  The main course was pan fried sea bass in a lemon and chive sauce with new potatoes and spring greens.  For dessert we had brioche chocolate chip bread and butter pudding with custard, followed by tea and coffee and mints.
Our speaker was a local man, Mark Kershaw, who had spoken at Lapworth History Society last year, and
was very well received. He promised that the talk to the ladies would be different!
His talk was entitled 'How the BBC brings the Proms to our screens' and by the end we were amazed at how much work and technology goes into the screening of live programmes such as The Proms.
Mark gave us a potted history of the Proms, and showed us some lovely photographs of his early career with the BBC as a cameraman and vision mixer, and later as a producer of Gardener's World and the Chelsea Flower Show!
Mark then went on to describe how he planned the screening of the Proms by going through the music score
and planning where the 8 cameras would be and when they will be used. He needed to know where the different musicians would be sitting, who would be interviewed during the interval, and where all the miles of cables would go! Mark explained that there are many last minute changes and when you are in charge of a live broadcast it feels as though you are performing yourself, and the Proms are not just about the music being played but it is now a world wide event!
We really enjoyed Mark's talk and Heather gave the vote of thanks after some questions such as 'Does the cameraman always focus on the pretty girls?!!
Heather reminded us that the next meeting is on Wednesday March 4th and the money is due no later than Tuesday 25th February. It is the last meeting of the season and will be held at Henley Golf Club. We are always on the look out for new venues especially ones that do not charge over £100 for room hire! So if you have any ideas let us know. Heather also explained that the meal costs will have to go up in October to £28 as it has been impossible to pay for the venue, meal and tips with our £25 currently charged, especially as the minimum wage is due to rise again.
We would also like you to bring a friend to the next meeting, especially someone who finds it difficult to drive at night. Heather found many people who were interested in the Supper Club when she went to the Flu Clinic but who either had no car or who were not able to drive in the dark. So, do you know anyone who would like to come?
We look forward to seeing you all at Henley in March!
---
​On Wednesday 8th January, Lapworth Ladies Supper Club met at the Silhillian Sports Club, which is a new venue for us but is known to several of our members. The weather was terrible, very windy and pouring with rain and we did feel quite sorry for the boys doing football practice outside!
Our meal was lovely, starting with home hot smoked salmon with cucumber ribbons and a lemon and dill dressing. The main course was braised pork in a cider apple sauce, served with parmentier potatoes and seasonal vegetables including some interestingly coloured carrots! For dessert we had salted caramel tart with cream followed by tea and coffee and mints.
Our speaker was Cheryll Rawbone who is chair of the board of trustees of the Friendship Project. This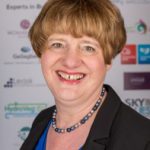 charity supports hundreds of disadvantaged children in need through weekly meetings with volunteers who act as an 'older friend'. It was founded in 1986 by Charles Raeburn and has received many accolades for their work including The Queen's Award for Voluntary Service.
The Friendship Project aims to improve the social and emotional well being of children who are experiencing great difficulties in their family life, such as the death of a parent or a sibling, a long term illness of a parent, or bullying at school. The children are referred to the Project usually by schools or social workers.
Cheryll spoke about some of the many successes the Project has had and how some of the young people often stay in touch long after their need for support has finished. They are always looking for volunteers (who have to go through thorough safeguarding training) who can give two or three hours a week. Of course they also need money to give these children interesting, exciting experiences! Cheryll explained that many kind people do lots of fundraising activities for them and some businesses pay for music or riding lessons for the children for example. They also apply for grants as there is no funding from the Council.
She asked us to raise awareness in our community by putting posters up and following them on social media.
We are very fortunate that Warwickshire has such a wonderful project for these very special children.
Our next meeting is at Olton Golf Club on Wednesday 5th February. The speaker will be Mark Kershaw on how the BBC brings the Proms to our screens. Please make sure your form and payment is with Heather Day no later than Tuesday 28th January. We look forward to seeing you there!
---
​The Christmas meeting was held on Wednesday 4th December  at Copt Heath Golf Club.  Friends and relations were invited to come along and join the members of the club. With crackers, table decorations and little gifts, the tables looked very festive as did many of the guests!
The meal was excellent – deep fried soft boiled egg on a wild mushroom and asparagus risotto to start with, followed by a duo of duck and pork with dauphinoise potatoes and chargrilled seasonal vegetables. The dessert was brandied raspberry and marscapone brulee with coffee or tea and mints. Everyone agreed that the meal was delicious.
Our speaker was Tori James who was the first Welsh woman to climb Mount Everest in 2007.  Her talk was entitled Altitude and Attitude and she described how since the age of 18 she had gone beyond her comfort zone to explore or climb some of the most challenging parts of the world.  She was raising money for The British Exploring Society which provides opportunities for young people to get away from difficult life situations and possibly change the course of their lives.
Whilst we were listening to Tori describe some of the scary situations she had been in, we were looking at this petite, vivacious young lady wondering where she got her strength from! Then we heard about the gruelling training she had to do, and how she and her 'Pink lady Pole Cats' beat several male teams to reach the magnetic North Pole!  As she said it was all in the mindset!  Tori was a delight to listen to and she showed some amazing pictures from the top of Everest (as well as some rather gruesome ones of frostbitten toes!).  Several people bought one of her books and stopped to talk to her.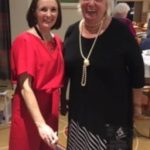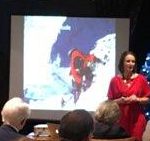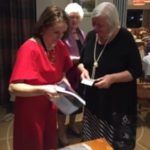 The next meeting of the Supper Club is on Wednesday 8th January 2020 at Silhillians Sports Club. The speaker will be Cheryl Rawbone on the Friendship Project. Please have your forms and money to Heather Day by Tuesday 31st December at the LATEST!
We look forward to seeing you at our New Year meeting which is a new venue for us!
---
Lapworth Ladies Supper Club met at Hogarths on Wednesday 6th November 2019 on a dark and rainy evening.  However we were soon warmed up by the wonderful meal and the friendly and helpful staff!
We started with wild mushroom, leek and smoked cheddar tart with green leek and pine nut salad and herb oil which tasted delicious. The main course was braised shin of beef, horseradish mash, roasted carrots and shallots, crispy kale with wild mushroom and smoked bacon sauce. The beef melted in your mouth but we wished we had taken our little Tupperware boxes with us because the portions were very generous! For dessert we had dark chocolate mousse, Bailey's cream with peanut brittle, followed by tea and coffee.
Our speaker was Robert Lister, an experienced actor who shared some of his experiences with us. He told us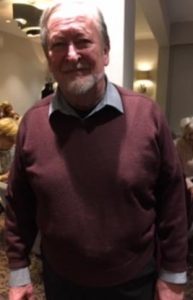 about the range of work he has done, as understudy for some very famous actors, doing voice overs for the police, and one of the voices on train announcements!
He entertained us with some of his stories about how loud comments from the audience at inopportune moments can leave the cast shaking with laughter and how the term 'resting' means the actor is working his hardest trying to get more work!
Robert explained how there are hundreds of actors like himself who we may never have heard of, but are the 'engine room actors' in theatres, TV and the film industry and provide the basis for the 'bottoms on seats' famous actors work with!  However, quite a few of us had heard of Robert in his role as Lewis in the Archers a few years ago!
Our next meeting is on December 4th at Copt Heath Golf Club. You are welcome to bring a friend or partner along to our Christmas meal but please note that forms need to be with Heather Day by 19th November!
We look forward to seeing you there at 7pm for 7.30pm.
---
Shirley Golf Club was the venue for our first full meeting of Lapworth Ladies Supper Club on Wednesday 2nd October 2019.  We started with honeydew melon, blackcurrant sorbet and fresh raspberries. Then for a change we thought we would try a carvery!  There was turkey or beef, with huge Yorkshire puddings, roast and mashed potatoes and a selection of vegetables including a delicious cauliflower cheese!  Of course there was lashings of gravy and everything was lovely and hot.  For dessert we had pavlova with blueberries and raspberries followed by coffee and mints.
Our speaker was Ruth Lowe who is an authority on Mary Quant.  She collects all things to do with Mary
Quant and she brought quite a collection along to show us.  Some of the clothes and accessories are on loan to the V and A museum where there is an exhibition about Mary Quant. Some of the Supper Club members have been fortunate enough to visit it and see some of the wonderful clothes, shoes and make up that have been lent from Ruth's collection.
Ruth entertained us with the early part of Mary Quant's career, explaining how her parents wanted her to be a teacher but she persuaded them to let her go to Goldsmith's college in London!  Mary first designed and sold hats, scarves and gloves from her shop Bazaar but soon started making clothes in her bedsit to sell.  She was the first to use PVC to make clothes and boots, and she introduced a huge colour range in her make up. Her famous logo, the five petal daisy, appeared on all her products – even on the sole of her 'Quantafoot' boots!  Her knee length boots were called 'Daddy long legs'!
Eventually Mary had to have her clothes manufactured because the demand was so great and the Ginger label was launched and sold in her shop.  Mary was the first British designer to break into the American market in 1963.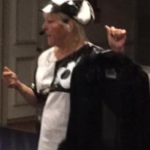 Mary eventually sold her products all over the world and will always be remembered for the fresh new look she brought to young people after the war.
Linda Cousins gave the vote of thanks, bringing with her a photo of her friend who had been the first in their school to have the now famous Mary Quant haircut!
We look forward to seeing everyone on November 6th at Hogarths, where the speaker will be Robert Lister 'An Actor's life for me!'.  Please make sure your form and payment are with Heather Day NO LATER than Tuesday 29th October!  Thank you!
---
On Wednesday 4th September, the Lapworth Ladies Supper Club had their first meeting of the new 'year' at Packwood National Trust Cafe.
We started with a short AGM where the committee members were introduced (all have agreed to stay on for another year).
Heather Day discussed the accounts, pointing out that despite the increased cost in meals and room hire, we are keeping our membership and meals at the same price as last year because we managed to keep speakers' costs low, and we had a little bit to spare in the bank account. However, next year we may have to put up the charge for meals.
Yvonne Joyce went through the plan for the year and reminded members how to complete their forms. It was agreed that the programme looked varied and interesting! We also checked that members were happy with the amended rules of the club which had been emailed to everyone a few weeks ago. They were passed by a show of hands.
It was lovely to welcome several new members to the Supper Club.
After a drink and some 'nibbles' and a chance to chat with friends and catch up on news, we settled down to listen to David Lyons who had come to talk to us about the history of Lyons the Butchers in Knowle.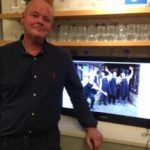 He told us that the first shop opened in 1903 where Dorridge Autospares is now, and has been in the family ever since, through the good times and the not so good! They moved to the High Street but also had a shop in Lapworth run by grandad Bill, and one in Station Road in Knowle.  Dave showed us some pictures of the family through the generations, and also shared some of the problems they had when they did the last big extensions and renovations last year, including the discovery of the original well from 1690 when the building had been part of a farm!
Dave shared a few lovely stories about the characters who would come into the shop! It was fascinating to hear how Lyons has had to evolve to keep up with the changing needs of people.
It is obvious that Lyons is no longer purely a butchers but a place to go for a huge range of high quality foods, many baked on the premises (including the new breakfast baps!). It made us hungry hearing all about it!
We thanked Dave very much for talking to us, and we were glad to hear that his two sons are now in the business to carry on the good name of Lyons!
Our first full meeting is on October 2nd at Shirley Golf Club, with a talk about Mary Quant by Ruth Lowe. Don't forget to have your forms and money to Heather Day before 24th September. We look forward to seeing lots of you there!