Lapworth Ladies Supper Club
Lapworth Ladies meet monthly on the first Wednesday of every month, from October to March.  Meetings take place at various venues (hotels and golf clubs) within easy travelling distance of Lapworth, and they include a three course meal and an after dinner speaker.   The talks are both informative and entertaining.  If you are interested in joining the Supper Club, please feel free to contact Jacqui 785022, Yvonne 783595 or Heather 783638 for more information.
To view the  Lapworth Ladies Supper Club Programme of Events from October 2018 through to March 2019, please click here.
If you would like to download a Ladies Supper Club Booking Form, please click here.
If you would like to download a Lapworth Ladies Supper Club Membership Subscription Form, please click here.
---
The November meeting of the Lapworth Ladies Supper club was held at the Forest Hotel in Dorridge.
We started with a delicious apple and celeriac soup followed by marmalade glazed ham, roasted root vegetables, creamed potatoes and green beans. Dessert was iced berry parfait with cinnamon poached pear. Tea and coffee was served whilst we got ready to listen to our speaker, Lieutenant Colonel John Rice (retired), who informed us that he had lived in Lapworth when he was (much) younger!
John spoke knowledgeably about the Royal Warwickshire Regiment, how it began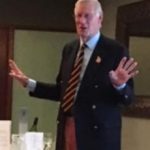 and briefly what had happened to the 'Warwickshires' since 1674. We learned where the term 'fusiliers' came from (a fusil is a type of musket!), how Montgomery was involved with the regiment, and sadly, that out of 45,000 men enlisted in the Royal Warwickshire Regiment, 11,610 were killed in the first World War. That is why St Mary's in Warwick were trying to collect 11,610 poppies for their display – they now have thousands over their target!
John is a trustee at St John's Museum in Warwick which is where The Royal Warwickshire collection is now kept. Apparently Monty helped to buy the building for them! Due to reorganisation the Warwickshires were disbanded in 2014 with their Regimental Colours being laid in the chapel at St Mary's Church in 2016.
We also learned that the Regiment Colours are consecrated which is why they are returned to a church. John asked us to support the Museum as it is now only funded by charitable donations, and he encouraged us to visit both St Mary's church and St John's Museum.
The next meeting is at Copt Heath Golf Club and is our Christmas meeting. The speaker will be Dave Moylan "Comedy, Magic and Me!" Please don't forget that forms and cheques (£30 per person) need to be in early- no later than 20th November!  You are welcome to bring a guest (male or female!) to this meeting or can come on your own as usual, just indicate on the back of your form who you would like to sit with and we will do our best to accommodate everyone's requests! We look forward to seeing you there.
---
On Wednesday 3rd October, Lapworth Ladies Supper Club met at Hogarths Hotel.
We had a lovely meal of ham hock with pea puree and pickled baby carrots as a starter, followed by Cajun spiced chicken in a shallot and smoked pancetta sauce served with green beans and mashed potato. Dessert was Baileys creme brulee served with homemade chocolate shortbread biscuits.
The speaker was returning Alex Stanbrook who entertained us a few years ago with 'Hilarious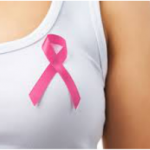 Hats!' This time, to coincide with Breast Cancer Awareness month, she talked about her experiences of dealing with breast cancer, which she has survived twice. Despite the seriousness of the subject, Alex managed to make us laugh with her descriptions of how people reacted to her news and her valued visits to 'play school' at the hospice. Alex also told us to avoid the sympathetic sideways head tilt when talking to cancer sufferers, as it is really annoying!
Valerie Hamley gave the vote of thanks, and we finished the evening by looking at the items of art and craft that Alex had made as part of her recovery.
The next meeting is on Wednesday 7th November at the Forest Hotel, where the speaker will be Lt Col John Rice (retired), talking about 'Your Regiment – The Royal Warwickshire Regiment'.
Please make sure the form and payment are with Heather NO LATER than Tuesday 30th October.
We look forward to seeing you there!
---
Lapworth Ladies Supper Club's new season got off to a good start on Wednesday 6th September.
We met at Packwood House Garden Cafe to catch up with friends and enjoy a glass of wine or soft drink and canapes.  After a welcome by our president Jacqui Arnott, Yvonne Joyce, our secretary, informed us about the new Data Protection and Privacy Regulations, which needs all members to sign the form to allow us to store their email and phone number for contact purposes only.
Everyone was given their pack which included details of the venues and speakers for the coming season, and booking forms for the meals. We have managed to keep subscriptions at £15 and meals at £25 (except for the Christmas meal). Heather Day, our treasurer, also briefly explained our accounts and reminded us that subscriptions need to be paid separately to the meals.
We were given a useful Lapworth Ladies Supper Club shopping bag that folds up into a small 'triangular' pack to keep in the car or our handbags – however a few of us were challenged in getting it to fold up correctly!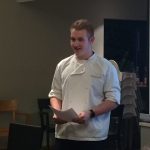 We were then treated to a talk by the young Joseph Vaughan who opened '1683 Chocolate Place' on Knowle High  Street just 3 years ago when he was only 16! He told us about the different sorts of chocolate, how he makes his delicious chocolates and some of the problems he has had! Joseph has worked so hard to get where he is today, but he did admit that he couldn't have done it without his Mum!