Lapworth Ladies Supper Club
Lapworth Ladies meet monthly on the first Wednesday of every month, from October to March.  Meetings take place at various venues (hotels and golf clubs) within easy travelling distance of Lapworth, and they include a three course meal and an after dinner speaker.   The talks are both informative and entertaining.  If you are interested in joining the Supper Club, please feel free to contact Jacqui 785022, Yvonne 783595 or Heather 783638 for more information.
To view the  Lapworth Ladies Supper Club Programme of Events from October 2018 through to March 2019, please click here.
If you would like to download a Ladies Supper Club Booking Form, please click here.
If you would like to download a Lapworth Ladies Supper Club Membership Subscription Form, please click here.
---
The next meeting of Lapworth Ladies Supper Club is on Wednesday 6th February 2019 at Henley Golf and Country Club when the speakers will be Corinne Brazier and Steve Rice celebrating 100 years of Police Officers in the West Midlands.
---
A New Year and a new venue for the Lapworth Ladies Supper Club, as we met on 9th January 2019 at the Fulford Heath Golf Club. 
A small, select gathering, the first challenge was for members to find the location, in the dark, several of us having done a dry-run in the daylight on previous days!  However, 32 ladies made it and dined on pate and toast followed by pan roast salmon with herb crust potatoes and mixed seasonal vegetables.  The dessert was Bakewell tart and custard followed by tea and coffee with mints. And as usual, special dietary requests were catered for with a variety of mains and desserts on offer.
The speaker was John Pullan who had been recommended to the Committee by one of our members.  A retired dentist, John has now taken up the hobby of photography.  He started by showing us how it was possible to 'photoshop' images to make ladies look younger, thinner, blemish free and generally more attractive (allegedly!).    So the images that are portrayed in the media need to be treated with caution, as what you see is not always what is actually real!
We had been warned that some of the images would contain female nudity and we weren't disappointed!  Many of the shots were taken from interesting angles – who
knows what you can do on a ceramic hob wearing leather boots, lying on a dirty factory floor or outside a toilet wearing a silver bracelet and smoking a cigarette! The poses are endless.  But there were also photographs of a young bride in her wedding dress, in a far from scenic Birmingham back street, who was being photographed by her husband (as well as John) as her original wedding photographs had been disappointing.
Many of John's award winning photographs were beautifully posed and very artistic, the background scenery and lighting key to a good shot.  John whipped through the photographs at pace explaining how he had taken the photographs, how long it had taken to wait for the right lighting and indeed the right model.   When asked why he spent so much time behind the lens, John said he could have been sitting in a chair, reading a magazine and drinking cocoa – it had not been a difficult choice!
---
In December, Lapworth Ladies Supper Club had a wonderful Christmas meeting at Copt Heath Golf Club!
Members were allowed to bring guests, including men, to this event and there was a lot of sparkle and several bow ties to be seen!
The tables were beautifully decorated and as we came in, the Quintet played, creating a lovely atmosphere.
We had a delicious meal of crispy bruschetta with king prawn rarebit to start with, then a duo of lamb on a bed of wilted spinach with a tomato and rosemary reduction, accompanied by parmentier potatoes and seasonal vegetables. This was followed by a trio of Christmas desserts and tea and coffee and mints.  Many people have said how much they enjoyed the meal!
Each guest received a little present – a gold 'handbag' containing two chocolates from the chocolatier in Knowle, or a screen wipe for glasses, mobile phones or computers.  The crackers on the tables were fun and the jokes inside were up to the usual Christmas standard! The gifts inside were even quite useful!!
Our speaker was Dave Moylan who is the resident magician at Warwick Castle.
He was very entertaining, performing a  mixture of magic, songs and lots of jokes in between.  A few members of the audience helped him with some of the magic and we were very impressed!  There was lots of laughter, disbelief and enjoyment during the evening.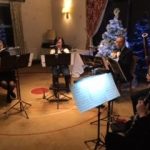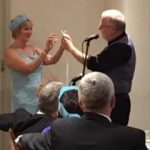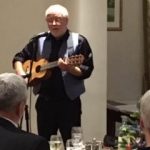 Our next meeting is on January 9th at Fulford Heath Golf Club. Forms and money must be in by Tuesday 1st January at the latest.
The speaker will be John Pullan, who is a local photographer. He will be showing us how the media can manipulate images resulting in young women being influenced by celebrities which are not always true to life. There will be some images of female nudity during his talk.
We look forward to seeing you there!
---
The November meeting of the Lapworth Ladies Supper club was held at the Forest Hotel in Dorridge.
We started with a delicious apple and celeriac soup followed by marmalade glazed ham, roasted root vegetables, creamed potatoes and green beans. Dessert was iced berry parfait with cinnamon poached pear. Tea and coffee was served whilst we got ready to listen to our speaker, Lieutenant Colonel John Rice (retired), who informed us that he had lived in Lapworth when he was (much) younger!
John spoke knowledgeably about the Royal Warwickshire Regiment, how it began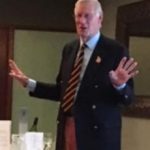 and briefly what had happened to the 'Warwickshires' since 1674. We learned where the term 'fusiliers' came from (a fusil is a type of musket!), how Montgomery was involved with the regiment, and sadly, that out of 45,000 men enlisted in the Royal Warwickshire Regiment, 11,610 were killed in the first World War. That is why St Mary's in Warwick were trying to collect 11,610 poppies for their display – they now have thousands over their target!
John is a trustee at St John's Museum in Warwick which is where The Royal Warwickshire collection is now kept. Apparently Monty helped to buy the building for them! Due to reorganisation the Warwickshires were disbanded in 2014 with their Regimental Colours being laid in the chapel at St Mary's Church in 2016.
We also learned that the Regiment Colours are consecrated which is why they are returned to a church. John asked us to support the Museum as it is now only funded by charitable donations, and he encouraged us to visit both St Mary's church and St John's Museum.
The next meeting is at Copt Heath Golf Club and is our Christmas meeting. The speaker will be Dave Moylan "Comedy, Magic and Me!" Please don't forget that forms and cheques (£30 per person) need to be in early- no later than 20th November!  You are welcome to bring a guest (male or female!) to this meeting or can come on your own as usual, just indicate on the back of your form who you would like to sit with and we will do our best to accommodate everyone's requests! We look forward to seeing you there.
---
On Wednesday 3rd October, Lapworth Ladies Supper Club met at Hogarths Hotel.
We had a lovely meal of ham hock with pea puree and pickled baby carrots as a starter, followed by Cajun spiced chicken in a shallot and smoked pancetta sauce served with green beans and mashed potato. Dessert was Baileys creme brulee served with homemade chocolate shortbread biscuits.
The speaker was returning Alex Stanbrook who entertained us a few years ago with 'Hilarious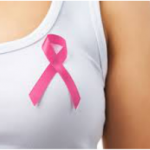 Hats!' This time, to coincide with Breast Cancer Awareness month, she talked about her experiences of dealing with breast cancer, which she has survived twice. Despite the seriousness of the subject, Alex managed to make us laugh with her descriptions of how people reacted to her news and her valued visits to 'play school' at the hospice. Alex also told us to avoid the sympathetic sideways head tilt when talking to cancer sufferers, as it is really annoying!
Valerie Hamley gave the vote of thanks, and we finished the evening by looking at the items of art and craft that Alex had made as part of her recovery.
The next meeting is on Wednesday 7th November at the Forest Hotel, where the speaker will be Lt Col John Rice (retired), talking about 'Your Regiment – The Royal Warwickshire Regiment'.
Please make sure the form and payment are with Heather NO LATER than Tuesday 30th October.
We look forward to seeing you there!
---
Lapworth Ladies Supper Club's new season got off to a good start on Wednesday 6th September.
We met at Packwood House Garden Cafe to catch up with friends and enjoy a glass of wine or soft drink and canapes.  After a welcome by our president Jacqui Arnott, Yvonne Joyce, our secretary, informed us about the new Data Protection and Privacy Regulations, which needs all members to sign the form to allow us to store their email and phone number for contact purposes only.
Everyone was given their pack which included details of the venues and speakers for the coming season, and booking forms for the meals. We have managed to keep subscriptions at £15 and meals at £25 (except for the Christmas meal). Heather Day, our treasurer, also briefly explained our accounts and reminded us that subscriptions need to be paid separately to the meals.
We were given a useful Lapworth Ladies Supper Club shopping bag that folds up into a small 'triangular' pack to keep in the car or our handbags – however a few of us were challenged in getting it to fold up correctly!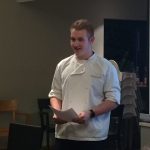 We were then treated to a talk by the young Joseph Vaughan who opened '1683 Chocolate Place' on Knowle High  Street just 3 years ago when he was only 16! He told us about the different sorts of chocolate, how he makes his delicious chocolates and some of the problems he has had! Joseph has worked so hard to get where he is today, but he did admit that he couldn't have done it without his Mum!