The Church of St Michael in Baddesley Clinton is held in plurality with the Parish of Lapworth that has it's own Church of St Mary the Virgin. The parish is very small (about 200 people) but many people travel from further afield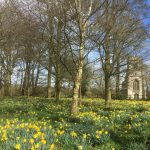 to worship at St Michael's.  The church is appealing because of the attractive rural setting, the mediaeval church building and the traditional CofE worship.
You can see the web page for St Michael's in the Church of England web site here.
From January to May the churchyard has many beautiful flowers; first snowdrops, then daffodils and then bluebells. The church holds an annual "Bluebell Service" on the second Sunday of May (3pm) to celebrate these wonderful flowers.
The church is situated near to the National Trust House, just to the east of main car park. There is a path (a 250 yards section of the Heart of England Way) between the reception of the National Trust House and the church. Many of the visitors to the NT House walk up the path to visit the church. Both church and house have long and close links with the Ferrers family.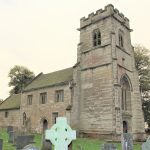 The earliest record of a church is dated 1305, but it is believed there was a church on or near this site two, or possibly three centuries earlier. The quick tempered Lord of the Manor Nicholas Brome who built the tower as a penance is buried just outside the south door "within the parish church of St James in Baddesley Clinton, there as people may tread upon mee when they cone into the church…" The dedication has changed from St James to St Michael, possibly following 19th century restoration.
The Rector of Lapworth is also the incumbent of Baddesley Clinton.
There is one service every Sunday:
09:45 Holy Communion (on the first, third and fifth Sunday of the month)
15:00 Evensong (on the second and fourth Sunday of the month)
The services are traditional CofE worship making use of the Book of Common Prayer. Many of the texts used date from the first English prayer book of 1549. Music is played on a unique 1797 chamber organ built by Sarah Green.
The congregation is friendly and visitors are most welcome at the services.
The church has a Privacy Notice
Please use the Electoral Roll Form to join the parish electoral roll
Safeguarding
Questions or concerns about the safeguarding of children and vulnerable adults should be addressed to the Parish Safeguarding Officer, Clare Hill (01564 782218, Email: clairelouise165@hotmail.com). Claire also acts as Parish Domestic Abuse Contact.  Alternatively you can contact the incumbent, the Revd Patrick Gerard (Tel: 01564 782098, Email: patrick@gerard.net) or you can contact the Bishop's Safeguarding Adviser (Tel: 07342 993 844 Email: StephH@cofebirmingham.com).
The church has a Safeguarding Policy
The church has a Statement on Domestic Abuse