Lapworth lies on the junction of two canals, the Stratford, and the Grand Union which has been returned to its originalconfiguration in recent years.The towpath of the Grand Union Canal is popular with fishermen and walkers, The canal passes through Lapworth on its way from Birmingham to Leamington Spa via Shrewley,Hatton and Warwick and eventually on to London. Although travelling by this route would,take considerably longer than than the train service run by Chiltern Railways, even now with the much diminished service, which takes you from Lapworth station to London Marylebone in around two and a half hours albeit infrequently during the middle of the day.
The Stratford Canal passes through Lapworth on its way from Kings Norton Junction in the suburbs of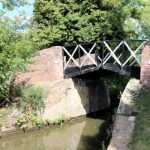 Birmingham to Stratford, where it joins the River Avon. It is curious to consider that in the 1960's, Stratford District Council wanted to fill the section betwen Stratford and Lapworth and convert it into a road. Fortunately their plans were thwarted by far sighted campaigners.
An unusual feature of the Stratford on Avon Canal is its split bridges, designed in the days of horse drawn boats to let the horse cross over the canal without being unhitched from the narrowboat.
Many of these bridges still survive in their original form and on some of the bridge stanchions you can still see the deep grooves worn into the ironwork by boat tow ropes over many years.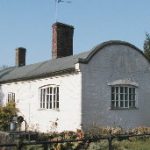 Several barrel roofed cottages can be seen on the canalside between Stratford and Lapworth. This cottage is alongside an old section of canal re-opened in 1995 to provide a route between the Stratford and Grand Union canals which makes more efficient use of water resources than the previously used link.
The Lapworth flight of locks drops the canal down from the Birmingham plateau level. After working a boat through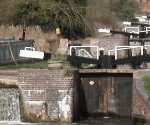 the flight the thirsty boater would be missing a treat if they didn't explore the local pubs.These links below will take you to some organisations concerned with the canals in and around Lapworth.