The Church of St Mary the Virgin is in the parish of Lapworth that is held in plurality with the Parish of Baddesley Clinton four miles to the east of St Mary's and the Rectory in Lapworth. St Michael's is the church in Baddesley Clinton
Both Parishes are in a particularly attractive part of Warwickshire and attract a considerable number of visitors who are regarded as a very important part of the Church mission, as is making new members of the congregation welcome.
The Church, situated about a mile from the main population (Kingswood), is a grade 1 listed building that dates from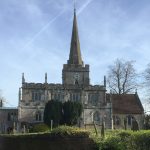 approx. AD 1100. It comprises a nave with seating for about 180. In AD 1100 a stone church existed on the site of the present nave and chancel; the succeeding nine centuries have given Lapworth an outstandingly beautiful and interesting church. "Building, which began in the 12th century, continued at intervals over 300 years so that the general impression now from the outside, is of a 15th century church," (A Warwickshire Village Church, by Mildred Tomlinson). The organ, a Nicholson three manual that was bought and completely rebuilt with additions in 1998, is a particularly fine instrument.
Sunday

8:30 am
Holy Communion (Said) Lectionary Common Worship Epistle and Gospel
11:00 am
1st Sunday – Family Service – Gospel CW
2nd and 4th Sundays Choral Matins (1662) CW Lectionary Old and New Testament
3rd and 5th Sundays – Parish Eucharist (Sung) CW Eucharistic Lectionary Epistle and Gospel

Wednesday

10.00 am
Holy Communion CW Lectionary Epistle and Gospel
The Rector also takes Communion on a monthly basis to those who, because of their circumstances, request the service at home.
Members of the congregation organise evening concerts (sometimes with meals) and entertainment usually to assist good causes including Christian Aid, Harvest Supper etc. Joint Parish walks are enjoyed throughout the year as well as regular parish lunches in the 'Old School'. A summer outing has been popular in recent years. An annual Christmas Fair in late November is appreciated by the community. The men's supper group (MOLES) of which the Rector is chairman, holds monthly meetings during the winter reaching out to the wider village society.
The Parish has a strong and active PCC and Finance Committee, who include amongst their number, members holding professional qualifications, who are able to ensure that the administration and financial affairs of the Council receive the full benefit of their professional skills and advice.