Community News
---


Have you had your say on the police precept for 2019/20 yet?
Warwickshire Police and Crime Commissioner Philip Seccombe wants to hear your thoughts on three options he is putting forward to boost the numbers of police officers in the county.
The PCC is proposing to use a rise in the Police Precept (the portion of Council Tax which pays for policing) to recruit up to 100 new officers, community support officers and crime investigators. This will help Warwickshire Police meet rising demand and provide a better, more visible service to local communities.
Under the proposals, achieving the maximum number of new officers would require an increase of £2 per month for an average Band D council tax payer, but could deliver 85 new police officer posts, five new police community support officers and an additional 10 police staff investigators.
As well as these additional officers, the extra funding would also ensure that much-needed investments could continue to be made into modernising police IT and estates to ensure they are efficient and effective, enabling Warwickshire Police to deliver an improved service to the public.
Options for increases of £1.50 per month and £1 per month at Band D are also being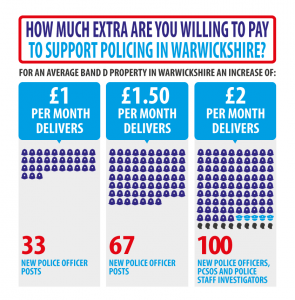 consulted upon, but these would see fewer new officers posts created and no new PCSOs or police investigators appointed.
The proposals come as part of the draft budget for the 2019/20 financial year and would allow for officer numbers to be boosted and deliver improved capacity for urban and rural policing. This will build on last year's police precept investment which provided funding for 50 frontline police officer posts.
Help shape the future of policing in Warwickshire by giving your feedback on the plans and encouraging friends and family to do the same.
The survey is  open until 24th January 2019, so don't delay in giving your views.
Take the survey at www.surveymonkey.co.uk/r/WarksPrecept19-20
---
Lapworth Cricket Club
Members prepare for 2019 Cricket Season
It may still be deep mid Winter, however Lapworth Cricket Club (LCC) members are already preparing for the 2019 Cricket Season which starts in April.
We are delighted to advise that we have secured a new venue a lot closer to home for our Indoor Nets, and training sessions will now be held at:
Venue:     Tudor Grange Academy, Dingle Lane, Solihull B91 3PD
Day:          Every Thursday
Date:         Commencing 14th February 'til 18th April 2019
Timings:  8.30pm – 10.30pm
We are always looking to attract new players to our Club whatever your ability, age or gender so if you are interested in attending please contact our Club Captain Sean Cross on 07504 906436 for further information OR simply turn up at Tudor Grange on training night – I promise you will be made very welcome.
2019 will be another exciting year for the Club when we will run three teams on a Saturday in the Cotswold Hills League. The 1st team will be competing in the Premier Division, the 2nd XI in Div.6, and the new 3rd team in Div.7.  We also have a full list of Sunday fixtures and will again participate in the Shirley Midweek league.
So come on, lets forget those winter blues and start preparing for those long balmy summer days ……………..…………