Community News
---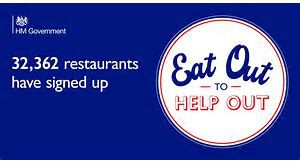 Eat Out to Help Out
From 3rd to 31st August 2020, you can get a 50% discount when you eat in at restaurants, pubs and cafés that are registered with the "Eat Out to Help Out" Scheme.
Use the Eat Out to Help Out Scheme at a participating establishment:
* to get a 50% discount on food or non-alcoholic drinks to eat or drink in (up to a maximum of £10 discount per diner)
* every Monday, Tuesday and Wednesday between 3rd and 31st August 2020
* as many times as you like
You do not need a voucher to use this scheme and you can use it at the same time as other offers and discounts. There is no minimum spend.
You cannot claim discount on alcoholic drinks or service charges.
The discount will be automatically available to you at participating establishments.  Establishments will then claim a reimbursement from the government for the discount they've given you.
Participating establishments may include:
restaurants, cafés, bars or pubs
work and school canteens
food halls
All diners in a group of any size can use the discount.
Just enter your postcode for a list of participating restaurants, pubs and cafés within a 5 mile radius.
---
 Lapworth Cricket Club
Cricket has commenced . . .
"Our optimism that we would get some cricket in 2020 finally came to fruition when in early July the government announced that recreational cricket could return in England from Saturday July 11. There are considerable guidelines that clubs and players have to adhere to before, during and after games however its just brilliant to hear the sound of bat on ball again in an English summer.
In order to get some competitive cricket the Cotswold Hills League have devised two competitions the CHL Cup for the teams in the top divisions and the CHL Shield for teams in the lower leagues.  Our 1st team are competing in the Cup with our 2s in the Shield.
In each competition there are four divisions of 6 teams geographically located with games played on a round robin basis the top 4 teams in each division will then contest the semi-finals with the two winners playing in the final.
The first round of the competition took place on July 18 with our 1st team gaining an easy victory over Norton Lindsey at the Melson, our 2nd XI took the short distance up the Old Warwick Road to play Rowington 2s and they also recorded a victory. The following day our Sunday XI beat Christchurch so we ended up with a 100% record for the first weekend.
We have lots of cricket scheduled at Lapworth to the middle of September, there will be a home game every Saturday & Sunday with an occasional mid-week game which are currently being arranged.
If you are interested in playing cricket our Club practice nights are every Tuesday come along you will find us a friendly crowd. If you just want to come to the ground to chill out and watch some cricket then we would love to see you at the Melson Memorial Ground there is plenty of space so social distancing will not be an issue and parking is free. What more can you ask for?"
Richard Evans
Chairman
---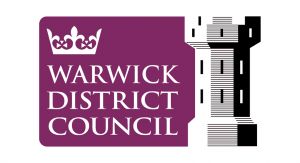 Parking charges reintroduced as the District moves towards recovery
 Parking charges in Warwick District Council's 27 off-street car parks will be reintroduced on 1st August 2020.
In line with government guidance and to assist all key workers during the COVID-19 pandemic parking has been free in Council operated car parks since March. This was extended in June to support the gradual opening of the town centres and to encourage footfall.
Now, as more businesses reopen and the Government launches its 'Eat Out to Help Out' scheme, Warwick District Council will be reinstating parking charges to ease potential congestion and help with access to the short-stay car parks.
Councillor Moira-Ann Grainger, Portfolio Holder for Neighbourhood & Culture, said:
"Footfall will steadily be increasing in our town centres as people return to work and to the shops and restaurants they've missed. While we have made the decision to reinstate the charges, we would like to direct longer-stay visitors and commuters towards our Park & Stride Car Parks, where you can park from as little as £1 a day. This will free up centrally located car parks for short-stay and evening visitors.
"With more traffic free streets in our town centres we would also like to encourage people to walk and cycle where possible and have now made a number of cycle racks available in key locations.
"Owners of electric vehicles that live or work in Warwick district can also apply to us for a free parking pass that covers all of our car parks.
"It's important to emphasise that the income we receive from parking is only used to maintain our car parks, ensuring that they are safe and accessible at all times."
 More information on parking charges, the best places to park and the locations of our cycle racks can be found at www.warwickdc.gov.uk/parkingcharges
Further information on the electric vehicle permit scheme is available at www.warwickdc.gov.uk/evpermits
---
Red Kites over Lapworth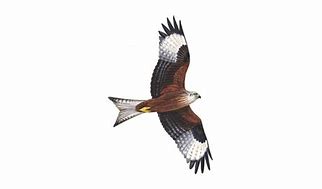 Persecuted to near extinction, the Red Kite has made a tremendous comeback thanks to reintroduction programmes and legal protection, over the past 30 years.  Seeing one of these magnificent birds soaring high in the sky is a true delight.  They are easy to identify with their reddish-brown body, angled wings, deeply forked tail and 'mewing' calls.
Yesterday (19th July), as one of our local farmers trundled up and down in his tractor cutting grass silage, I had the absolute pleasure of watching a Red Kite circling above the field, swooping down, soaring high, and also interspersed with flying at a very low level indeed across the field (and my garden!).  Truly magical.
---
National Trust – Packwood House
The parkland, garden and kiosk at Packwood House are open (normal opening times apply).
The kiosk is open 9.00am – 4.30pm and will be serving a limited range of takeaway hot and cold drinks and some light snacks. New safety measures including closure of seating areas, screens at tills, collection points, and waymarked routes.  Payment by card only will be accepted.
Packwood House itself reopens on 17th July 2020.  If you book a ticket for entry to the gardens and parkland, you may also be able to visit the house but visits to the house will be limited to ensure safe, social distancing and so it cannot be guaranteed that you will be able to view the house on the day you visit.   The house experience will be a bit different for the moment as new safety measures have been introduced such as one-way routes.
The shop reopens from Monday 20th July 2020.
You will need to book tickets before you visit Packwood House.  Members can book for free, while non-members will need to pay when booking. Tickets will be released every Friday.  Anyone who arrives at Packwood House that hasn't booked a ticket will be turned away.
Book your tickets here before you visit.
---
National Trust – Baddesley Clinton
The parkland, gardens and kiosk at Baddesley Clinton are now open and you'll need to book tickets before you visit. The shop re-opens from Monday 6th July 2020. Members can book for free, while non-members will need to pay when booking. Tickets will be released every Friday.  Anyone who arrives at Baddesley Clinton that hasn't booked a ticket will be turned away.
Book your tickets here before you visit.
---
Coronavirus (COVID-19)
---