Community News
---
Big Butterfly Count 2019
Friday 19th July – Sunday 11 August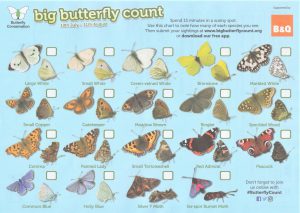 A free activity everyone can take part in . . . simply count butterflies for 15 minutes during bright (preferably sunny) weather during the big butterfly count. This time of year has been chosen because most butterflies are at the adult stage of their lifecycle, so more are likely to be seen. You can count butterflies from anywhere – from parks and gardens, to fields and woodland.
If you are counting from a fixed position in your garden, count the maximum number of each species that you can see at a single time. For example, if you see three Red Admirals together on a buddleia bush then record it as 3, but if you only see one at a time then record it as 1 (even if you saw one on several occasions) – this is so that you don't count the same butterfly more than once. If you are doing your count on a walk, then simply total up the number of each butterfly species that you see during the 15 minutes.
Download an identification chart to help you work out which butterflies you have seen.
For more information on 'why count butterflies' and 'how to take part' visit the Big Butterfly Count website.
---

It has been confirmed that Vélo Birmingham & Midlands is returning next year with a new summertime date of Sunday 28th June 2020.
As per this year, the 100 mile route will be fully closed for most of the day and it will not be possible to cross or drive along the route in a vehicle (actual route details for 2020 are still to be confirmed).
If you are planning a special occasion for 28th June next year then do please be aware of this event taking place.
---
LAPWORTH CHARITY
TO LET
12 Pound Close, Lapworth
£675 PCM
A rarely available one bedroom first floor apartment situated in the highly desirable village of Lapworth.
The property has recently been re-furbished and briefly comprises of one double bedroom, spacious sitting room, kitchen and bathroom, with communal gardens adjoining open countryside to the rear.
For further information please visit www.johnearle.co.uk or contact their office on 01564 794343.
---
 Volunteer lock keepers required
Volunteer lock keepers are needed across Warwickshire including in Lapworth and at Hatton Locks!  If you like spending time outside and talking to people this could be the role for you.
For more information and further details about volunteering on the canals, visit the Canal River Trust website.

---