Community News
---
For one weekend only . . .
Upton House and Gardens
National Trust Upton House, Near Banbury, Warwickshire, OX15 6HT
As part of Heritage Open Days, National Trust are opening Upton House and Gardens for free for one weekend only this September. On 21st and 22nd September 2019 visitors are invited to be amongst the first to see a national exhibition from the National Portrait Gallery. They are also celebrating European Days of Jewish Culture and Heritage with a display on the Kinder Transport.
---
Birmingham Heritage Week
12th September – 22nd September 2019
Birmingham Heritage Week returns in September for its fifth year! With many of us having links to the Birmingham area, this popular festival showcasing Birmingham's rich history is a great chance to visit  favourite places and see them from a new perspective or indeed it is a fantastic opportunity to visit parts of Birmingham that you may never have seen before.
Visit the Birmingham Heritage website here to browse over 100+ events.  You can browse events by Date or by

Category.  Choose from Walks, Talks, Workshops, Tours, Open Days, Exhibitions, Concerts  and much much more.
Many of the events are free of charge but it is advisable to check prior to visiting and also to check whether pre-booking is required.
---
Visit of the Rt Revd David Urquhart KCMG
29th September 2019
9.30am Holy Communion at St Michael's Baddesley Clinton
11.00am Choral Mattins at St Mary's Lapworth
---

Change of date . . .
It has just been confirmed that Vélo Birmingham & Midlands is returning next year with a new summertime date of Sunday 21st June 2020.
As per this year, the 100 mile route will be fully closed for most of the day and it will not be possible to cross or drive along the route in a vehicle (actual route details for 2020 are still to be confirmed).
If you are planning a special occasion for Sunday 21st June next year then do please be aware of this event taking place.
---
The X20 is back . . . with some new and improved alterations
From 2nd September 2019, Johnsons Service 20 will be renumbered back to X20 and will operate between Stratford upon Avon and Solihull, on an hourly basis, and operating as on the current route as far as Morrisons in Shirley, where it will turn right via Solihull Road, Sharmans Cross Road and Streetsbrook Road to Solihull.
Johnsons Service 82 will also be renumbered as the X20 and will operate on its current route via Solihull Touchwood Shopping Centre to Coventry, providing a through service between Stratford upon Avon and Coventry, again on an hourly basis.
This new X20 Solihull to Coventry service will have some timing alterations in the afternoon peak times to provide one additional journey in each direction, providing later links between Solihull and Coventry than are currently available.
Home to School travel services that are provided within the service will be unaffected, and will still operate as normal.  Johnsons can also confirm that seniors will still continue to receive free bus travel.
Provisional timetables are available to view online now and paper copies will be available in September. If you have any questions or queries, please contact Johnsons Excelbus on 01564 797040 or email businfo@johnsonscoaches.co.uk .
---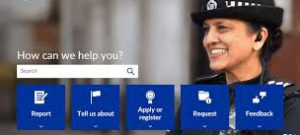 Warwickshire Police is introducing a new website which has already been successfully adopted by a number of other UK forces. The new website, Single Online Home (SOH), provides a 'digital police station' offering more than 25 different services online.
The SOH website is a National Digital Policing Portfolio programme and will replace the existing website and effectively become a 'digital 101' service, reducing the high volume of calls that come into the forces as well as the face to face contact at front counters and direct to officers. SOH allows members of the public to complete more tasks online at their convenience – decreasing the need for them to pick up the phone and wait to be directed to the right area of the business. This will improve public confidence and satisfaction.
A SOH team has been set up to oversee the delivery of the website to Warwickshire Police.  The new website will allow the public to complete such tasks as reporting missing persons, crimes, anti-social behaviour; Tell Police about events and processions, abnormal vehicle loads; Request information about the force, collision reports, and much more . . .
---