Community News
---
Stop Press: From Sunday 2nd September, the X20 Bus Service changes.  Monday to Saturday the bus will operate between Stratford and Shirley only (it will no longer continue to Birmingham City Centre).  The Sunday service will be unchanged but renumbered X50.  Further information available from businfo@johnsonscoaches.co.uk
---
Heritage Open Days
6th-9th September 2018 and 13th-16th September 2018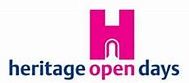 The Heritage Open Days Festival takes place over two long weekends in September.  There are thousands of events taking place all across the country for you to experience local history, architecture and culture, and all for FREE.
Locally, National Trust Baddesley Clinton, National Trust Packwood House and St Giles Church Packwood, are all taking part.  A little further 'down the road' there is much to see in Alcester and Warwick too.
The Heritage Open Days will also give you a fantastic opportunity to visit many historic sites in the Birmingham area such as Medieval Blakesley Hall in Yardley and 700 year old St Edburgh's Church; Bournville Quaker Meeting House, the Bournville Experience, and The Quadrangle (Almshouses); Stirchley Swimming Baths and Stirchley Library; Edwardian Moseley; Wake Green Road Prefabs (and share your memories of them too!); Sarehole Mill that so inspired JRR Tolkien; and much, much more.
If you're going to be away on holiday in September in England, check out what's going on in the locality that you are visiting.
Details of all 5000 events, the days they are open and opening times available via the Heritage Open Days website.  It's a great chance to see hidden places and try new experiences.
---
Autumn is on it's way and Warwickshire residents are being urged to book their free electric blanket test now. Bookings are open to all residents aged 50+.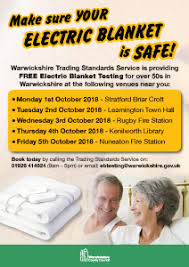 Warwickshire County Council Trading Standards is launching its annual electric blanket safety testing campaign. Have your electric blanket safety tested FREE of charge this coming October (2018).
Free electric blanket safety checks will take place at venues across all five districts and boroughs this coming October. Safety tests will be carried out by an expert electrical examiner.
Monday 1st October, Stratford Briar Croft
Tuesday 2nd October, Leamington Town Hall
Wednesday 3rd October, Rugby Fire Station
Thursday 4th October, Kenilworth Library
Friday 5th October, Nuneaton Fire Station
Book today by calling the Trading Standards Service on 01926 414024 (office hours) or email: ebtesting@warwickshire.gov.uk
Appointments are allocated on a first come first served basis and are limited.
---
New Initiative for Reporting Traffic Offences
From 1st July 2018 Warwickshire Police will be running a new initiative. This will allow members of the public to submit digital footage from dashcams showing potential traffic offences. This can range from driving dangerously or carelessly, overtaking on solid white lines, using a mobile phone while driving, ignoring traffic lights or dangerous driving around other road users, such as horse riders and cyclists.
Your submission will be sent to Warwickshire Police where the evidence will be reviewed by one of their road traffic officers, who will enforce against any offences committed
Footage can be submitted by using this link.
---
The National Trust needs your help to decorate Baddesley Clinton this Christmas (yes folks, Christmas)!
Baddesley Clinton NT are hoping once again to decorate the house with lots of dried flowers to celebrate the festive season.   They will be drawing on their own beautiful gardens for flowers and are also giving supporters a chance to get involved and contribute flowers grown in their gardens and/or in pots.
For more information follow the link Help us decorate Baddesley Clinton for Christmas.
---