Community News
---
Lapworth, Rowington and Lowsonford Public Meeting on Crime and Policing
A Public Meeting was held at Rowington Village Hall on Friday 8th February 2019.
The event was attended by Chief Inspector David Kettle, the Warwick Rural West Safer Neighbourhood Team, Emily Naysmith , Rural Crime Advisor from the Police & Crime Commisioner's office and Paul Ledden from Warwickshire Community Safety Team.
A summary of the meeting is available at the Tapster Watch website.
There are also links on the Tapster Watch Meeting Summary website post that provides more information about two subjects that can help householders protect themselves and their property:
Anti Snap Locks that make it very difficult for offenders to get into a property
Visible steering locks that deter car thieves.
If you wish to discuss or want personal or specific advice about crime prevention and your home/property, then please contact the Warwick Rural West Safer Neighbourhood Team at: wrw.snt@warwickshire.pnn.police.uk who will be pleased to help and advise you further.
---

March 2019 Order Deadline
Friday 1st March at 12.00 noon for delivery by 21st March 2019
Please remember:
Order online – if you need further assistance, call 01789 472619
Order deadlines are the first working day of each month
Minimum order volume of 500ltrs
No late orders can be accepted as the negotiation process will have started
All orders will be acknowledged
WRCC is a registered charity. They exist to support rural communities and to try to address the disadvantages experienced by people that live in rural areas. One of these disadvantages is the high and fluctuating cost of heating homes for those who live off the mains gas network.
Since their first order of 1,300 litres in 2012, WRCC Energy has ordered just shy of 5 million litres of heating oil on behalf of members, saving over £250,000 against the average fuel prices at the time of each order. This equates to an average saving of 5 pence per litre – saving approximately 10% against current prices.
Not all WRCC members are in fuel poverty. But even if you do not struggle to heat your own home, maybe you know someone that does?
---
Lapworth Cricket Club
Members prepare for 2019 Cricket Season
It may still be deep mid Winter, however Lapworth Cricket Club (LCC) members are already preparing for the 2019 Cricket Season which starts in April.
We are delighted to advise that we have secured a new venue a lot closer to home for our Indoor Nets, and training sessions will now be held at:
Venue:     Tudor Grange Academy, Dingle Lane, Solihull B91 3PD
Day:          Every Thursday
Date:         Commencing 14th February 'til 18th April 2019
Timings:  8.30pm – 10.30pm
We are always looking to attract new players to our Club whatever your ability, age or gender so if you are interested in attending please contact our Club Captain Sean Cross on 07504 906436 for further information OR simply turn up at Tudor Grange on training night – I promise you will be made very welcome.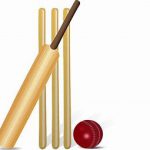 2019 will be another exciting year for the Club when we will run three teams on a Saturday in the Cotswold Hills League. The 1st team will be competing in the Premier Division, the 2nd XI in Div.6, and the new 3rd team in Div.7.  We also have a full list of Sunday fixtures and will again participate in the Shirley Midweek league.
So come on, lets forget those winter blues and start preparing for those long balmy summer days ……………..…………
---
Warwickshire Police Writing Competition for Safer Internet Week
To promote Safer Internet Week and wider knowledge amongst children and young people on how to keep themselves safe on line, Warwickshire Police are holding a creative writing competition.
The competition is open to children and young people aged six to seventeen years.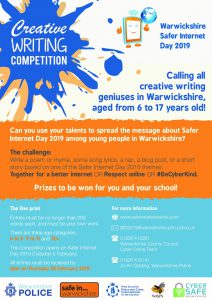 They are invited to write a poem, rhyme, song lyrics, a rap, a blog post or short story, based on the themes of this year's competition, 'together for a better internet', or 'respect online', or '#BeCyberKind'.
There are three age categories; 6-8, 9-11, 12+ and the top three entries in each category will be awarded prizes – 1st = £100 voucher, 2nd = £50 voucher, 3rd = £25 voucher. All entrants receive a participation certificate.
The competition will be launched on 5th February (which is Safer Internet Day 2019), with the closing date for entries set for 28th February. The final judges selection of winners will be carried out on 13th March, enabling the winners to be announced on 20th March.
---
Vélo Birmingham and Midlands 
Sunday 12th May 2019


Vélo Birmingham and Midlands (formerly Vélo Birmingham) will be coming to our area on Sunday 12th May 2019 – a 100 mile route on closed roads.
If you wish to take part in the bike ride, or are interested in a volunteering role, or simply wish to be a spectator, please visit the Vélo Birmingham and Midlands website for all the information.
The 100 mile route will be fully closed on Sunday 12th May and it will not be possible to cross or drive along the route in a vehicle.  It is strongly recommended to plan any journeys on the day well in advance and for residents living very close or on the route, parking a short distance away ahead of the road closures may be advisable.
A map of the route is available here.
---
36th Knowle Fun Run
Sunday 19th May 2019
Entries are now open for the 36th Knowle Fun Run on Sunday 19th May 2019.
Knowle and Dorridge Lions have already opened their website for prospective runners with a new entry system.  Runners can enter for 1 lap (5km) or 2 laps (10km) on traffic free roads.  There will also be an opportunity for children to take part in the Fun Run with runs around Arden School playing fields.
This year's Knowle and Dorridge Lions 36th Charity Fundraising Fun Run is in aid of the UK Sepsis Trust, SoLO Life Opportunities and Lions locally determined causes.
---
14th Heart of England Bike Ride
Sunday 14th July 2019
Entries are now open for the 14th Heart of England Bike Ride from Packwood National Trust House(map),on Sunday 14th July 2019.
All ages may enter the 12 mile (20 km) ride & 18 mile (30 km) ride and set off  between 9.00am-11.30am
Adult only entrants for the 60 mile (100 km) ride must set off between 8.00am-8.45am
All riders must return to Packwood House by no later than 3.00pm, when they will be able to pick up their Certificate of Achievement, enjoy a hot dog from the Lions BBQ and a FREE visit to Packwood House & Grounds.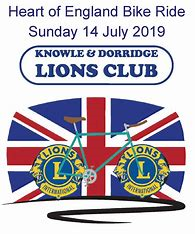 ---