Community News
---

Public consultation begins on proposal to create a South Warwickshire Council
Stratford-on-Avon and Warwick District Councils are considering a proposal to merge, creating a new District Council covering the whole of South Warwickshire (the areas currently covered by Stratford-on-Avon and Warwick District Councils).
The public consultation on the plans to create a South Warwickshire Council starts this week on Monday 6th September and runs until Sunday 24th October 2021.
Have your say! Local residents, businesses, Town and Parish Councils, local groups and organisations and key stakeholders are encouraged to take part and have their say by completing the online questionnaire.
Cllr Andrew Day, Leader of Warwick District Council says:
"As much as the pandemic has been a crisis for us, it has presented a challenge and an opportunity for us to re-imagine what local government services in South Warwickshire might be like in the future.
"We need to hear your views – we need to listen and respond to what our residents want.
"Please take the time to carefully reflect on the questions, tell us what you think the future for local government in this area should be so that we can build a vibrant, new, agile and strong Council to serve you."
Cllr Tony Jefferson, Leader of Stratford-on-Avon District Council says:
"This is an extremely important consultation that relates to the future of both Stratford-on-Avon and Warwick District Councils.
"Both Councils face significant financial challenges – the impact of dealing with the pandemic, when combined with the increased costs of delivering existing services, such as waste management, as well as responding to the climate emergency. We have to recognise the undeniable fact that the world has changed in ways we could not have envisaged and we need to adapt to those changes.
"We also need to consider the positive opportunities that combining Stratford-on-Avon and Warwick District Councils to create a South Warwickshire Council will bring.
"It is vitally important that before the Councillors come to a decision, we hear the views of the wider community on whether you believe a merger is the right option to take or not. So please get involved and have your say."
How to take part
The consultation document and online questionnaire can be viewed and completed at: www.southwarwickshire.org.uk
Questionnaires for completion on paper, as well as in different languages and formats can be requested by emailing: swconsultation@stratford-dc.gov.uk or calling 01789 267575. The paper questionnaires are returned using a FREEPOST address.
Questionnaires are also available to pick up at the following locations:
Warwick – Visitor Information Centre, Jury Street, Warwick CV34 4EW
Leamington – Town Hall, the Parade, Leamington Spa, CV32 4AT
Kenilworth – Library, Smalley Place, Kenilworth CV8 1QG
Whitnash – Library, Franklin Road, Whitnash CV31 2JH
Stratford-upon-Avon – the District Council's offices at Elizabeth House, Church Street, CV37 6HX
What happens next?
The findings from the consultation will be considered, along with any other evidence, at a meeting of the councils on 13 December 2021. A decision will be taken as to whether they want to formally ask government to allow the councils to merge.
The deadline for the survey is Sunday 24 October 2021.
Why we are doing this?
Both Stratford-on-Avon and Warwick councils are facing a very uncertain financial future.  Government funding for all councils has reduced in recent years and it is estimated that both councils will have shortfalls increasing to around £4-6m per year by 2025/26.
Across the two councils this means that annual savings of around £10m each year are needed over the next five years. This level of annual savings is about one-third of the combined costs of the councils.
Whilst some financial reserves are held by both councils these have already been reduced by the impact of COVID and are largely ear-marked for essential future expenditure.  It would not be prudent or financially sustainable to use these reserves to supplement annual running costs.
Faced with this financial pressure, and with a determination not to reduce the current level of services, both Stratford-on-Avon and Warwick District Councils have been exploring several options, including:
Do nothing
Each council attempts to reduce costs individually
Stratford-on-Avon and Warwick District Councils begin to share some services
Stratford-on-Avon and Warwick District Councils merge
Some new unitary government solution
The Councils believe that merely sharing some services does not make sufficient financial savings and still leaves considerable duplication.
Stratford-on-Avon and Warwick District Councils are therefore considering a proposal to merge, in which case a new District Council would be established covering the whole of South Warwickshire (the areas currently covered by Stratford-on-Avon and Warwick District Councils).
The Councils have appointed Opinion Research Services (ORS), an independent social research company, to manage the consultation and objectively report the outcomes.
As well as the public questionnaire the research agency, ORS, will be undertaking a telephone survey with a sample of residents selected to match the profile of both districts. Focus groups will also be held with residents, again matching the profile of both districts. There will also be focus groups with businesses, Town and Parish Councils, plus voluntary and community groups.
---

Weekly Update from the Leader and Chief Executive

10th September 2021
One in four of us under 40 years of age who are eligible, haven't received even one dose of Covid vaccine. As we approach winter, with local hospitals already experiencing higher-than-average admission levels for the time of year, this low vaccination rate presents a significant risk to our NHS.
Vaccination remains the best defence against serious illness or hospitalisation and with Covid infections back on the rise, increasing from 250.5 cases to 313.3 cases per 100,000 in the past seven days, please don't delay in getting fully vaccinated. Details of local walk-in centres can be found, here.
The start of the new academic year is an exciting time. It's exciting to welcome new students to our community as well as bidding farewell to those starting their studies elsewhere in the country. With farewell parties, freshers' week events and various activities organised that were postponed from earlier in the year, let's take the covid safe precautions we know work:- wearing a face covering, washing our hands regularly and taking regular lateral flow tests, available from a local test centre or by collection from a participating pharmacy. Also if we have Covid symptoms let's get a PCR test and self-isolate, remembering too that there are still Test & Trace support payments available for those eligible.
Giving a real boost to the recovery plan for the Council, our Apprenticeship Scheme which has been running since 2018, has now taken on 24 apprentices aged 18 and above. We're delighted that one third of our apprentices stayed on and joined our team of Officers, with a number now progressing towards degrees and career graded managerial roles. The broad range of opportunities we're able to offer young people from Business Administration, Digital Marketing, Community Arts, Accounting, Construction and Surveying to Project Management and Technical Theatre (Sound, lighting and stage) makes this an apprenticeship scheme like few others.
And whilst on the subject of local work and training opportunities, it's encouraging to see that PET-Xi has just set up a new office at Royal Leamington Spa College to deliver the government's Restart Scheme on behalf of Jobs 22 for unemployed people in Leamington, Warwick and Kenilworth.
If you've ever wondered what's behind the doors of our beautiful listed buildings, now's your chance to find out. The annual Heritage Open Days Festival is underway with 40 local buildings, gardens and places of historic interest opening their doors for free access over the next 10 days. A guide listing the venues and opening times is available from public venues, including the Leamington and Warwick visitor information centres, with online information here.
Last Monday saw the launch of a six-week public consultation on the possible merger with Stratford on Avon Council. We'd really appreciate hearing your views on the future shape of our local government, so please visit www.southwarwickshire.org.uk to see what's involved and to make your comments on the various proposals.
And finally, local residents have a further opportunity to access tickets to next year's Commonwealth Games with the main ticket ballot now open. Applications close at 8pm on Thursday 30 September, so don't delay in booking your tickets for what promises to be a spectacular and historic event.
Keep smiling and stay safe.
Andrew Day   Leader                                  Chris Elliott    Chief Executive
---

Warwickshire Road Safety Partnership asks public for views on new road safety Strategy to 2030
Warwickshire Road Safety Partnership (WRSP) is asking the public for their views on how the county's roads can be made safer by taking part in a public consultation on a new Warwickshire road safety 'Strategy to 2030'.  The public consultation starts today 18 August and can be viewed here 

www.warksroadsafety.org

   

Key partners, including Warwickshire Police, Warwickshire County Council, Warwickshire Fire and Rescue Service, Office of the Police and Crime Commissioner for Warwickshire and Highways England are developing the strategy together with external consultant

 

Agilysis and now need the public's input.

WRSP Chair and Police and Crime Commissioner for Warwickshire Philip Seccombe said

 

"This is an important document as it sets

 

out the long term vision for Warwickshire Road Safety Partnership, detailing the activities, structure and objectives up to 2030 and also includes how road safety activities will be evaluated.

"To continue to reduce the number of people killed or seriously injured on Warwickshire's roads, we need the public's support and involvement. That's why we

 are keen to encourage as many people as possible to take part in this public consultation to have their say."

WCC

 

Councillor 

Wallace Redford, Portfolio Holder for Transport and Planning

 

said "The partnership is keen to harness the increase in cycling and walking rates during 2020 due to the global pandemic and UK lockdown. These active travel choices bring many health and wellbeing benefits as well as a positive impact on the environment. Promoting active travel forms part of the new Strategy to 2030 and we would like to hear the public's views on this. 

The proposed Partnership vision is: 

'Using an evidence based Safe System approach, we will strive to eliminate fatal and serious casualties, thereby creating a safe road environment which will encourage active and sustainable travel

.'

Warwickshire Police Chief Constable Debbie Tedds said "Whilst it is pleasing to see a downward trend in the number of people killed or seriously injured on Warwickshire's roads and the impact and devastation this causes to individuals lives, as a partnership, we need to see this continue to reduce further.    This new Road Safety Strategy to 2030 adopts an ambitious target of a 50% reduction in road deaths and serious injuries by 2030, working towards 'Vision Zero'.

 

"Whilst protecting all road users from harm continues to be one of our priorities for our officers and staff,

 

the number of road fatalities and severe injuries has plateaued in recent years which is why, as a partnership we are proposing a new approach to help protect people on our roads."

The partnership is proposing

 

a new 'Safe System' approach where the whole system is designed to help protect people on our roads. 

This definition from 'Towards Zero Foundation, 2020' explains what a Safe System is.

To help build a safe road system that is forgiving of mistakes, investment needs to be made in the creation of Safe Roads, Safe Speeds, Safe Vehicles, Safe People and Post Collision Care to put layers of protection around people to keep them safe from death and serious injuries on the road. All parts of the road system must be strengthened in combination to multiply the protective effects and if one part of the system fails, the other parts will still protect people.

 

Highways England Assistant Regional Safety Coordinator, Marie Biddulph, said "Safety is always our number one priority and we believe no-one should come to harm when travelling or working on our roads.

 

"Highways England are responsible for maintaining the motorways and major A roads, including the A45 and A46, in Warwickshire and we are committed to meeting a target of zero injuries or deaths on our UK road network by 2040.  That's why we fully support the 'Safe Systems' approach and would welcome people's thoughts and input on it."

Chief Fire Officer Ben Brook

 

"We are really looking forward to working with local communities in Warwickshire to help create a safer road environment for everyone.   The partnership will be looking at how vehicles, roads and roadsides can be improved to protect people and we will also be looking at how we can encourage the public to play their part too by using the roads safely.

It's also important to remember that whilst the strategy paints the broad picture, due to the length of time it covers, the detail will need to be flexible to take into consideration factors such as shifts towards cycling and walking, and away from public transport as well as the financial environment.

To take part in the public consultation please click here

 

www.warksroadsafety.org  The consultation closes on 15 September and the final WRSP 'Strategy to 2030' will be published in October 2021.
---

Birmingham Heritage Week
9th September – 19th September 2021
The annual festival returns from 9th to 19th September 2021 revealing the City's hidden stories and historical secrets. With many of us living in the Lapworth and surrounding areas having links to the Birmingham area, Birmingham Heritage Week is an opportunity to discover parts of the City hidden from everyday life and rediscover popular places from a new perspective. Visitors to the City will be invited on hard hat tours of gasholders and catacombs and welcomed through the doors of magnificent mansions, churches and Victorian swimming baths.
Many of the events are free of charge but it is advisable to check prior to visiting and also to check whether pre-booking is required.
Key Hill Catacombs Hard Hat Tour
---
 
TEMPORARY CLOSURE OF CATESBY LANE, LAPWORTH
13th September – 17th September 2021
Catesby Lane will be closed to vehicular traffic between its junctions with Old Warwick Road and Lapworth Street for drainage investigation works – 08.00 -16.00hrs.
An alternative route will be signed and is available via Old Warwick Road, Lapworth Street and vice versa.
Vehicular access and egress will be maintained where possible.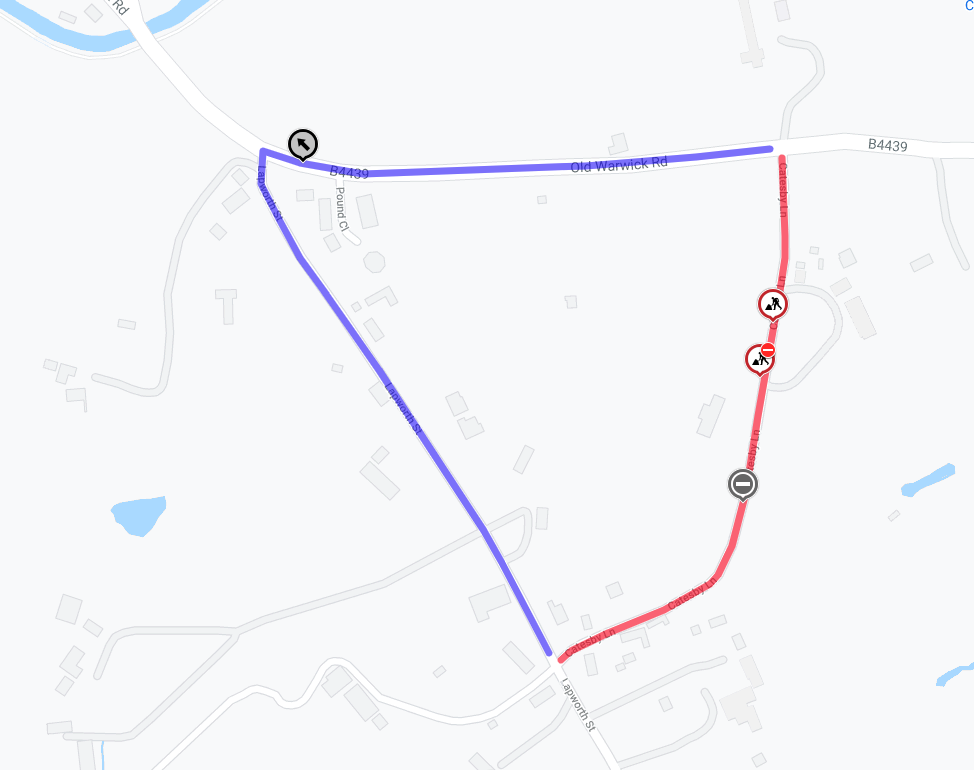 ---