Community News
---
Lapworth Cricket Club
All Stars & Dynamos Cricket
Hopefully many parents reading this article will already be aware of All Stars Cricket for the 5 – 8-year-olds and Dynamos cricket for the 8- to 11-year-olds however for those that don't – please read on:
What is All Stars Cricket?
All Stars Cricket provides a fantastic first experience for all children aged 5-8 years old where they are guaranteed 8 weeks of jam-packed fun, activity and skills development. The programme is designed to introduce children to the sport, teaching them new skills, helping them make new friends and have a fun time doing so.
Every child that registers will receive a backpack full of goodies. Your child's pack will include:
Backpack
Cricket bat
Cricket ball
Personalised t-shirt with your child's name
All children returning to All Stars will receive a kit bag, a set of stumps, a new ball and a personalised t-shirt.
A perfect first experience of cricket
8 x 60-minute sessions held over 8 weeks
Fully inclusive, Safe, and fully accredited.
What is Dynamos Cricket?
Dynamos Cricket provides a fantastic next step for all those graduating from All Stars Cricket and the perfect introduction for all 8–11-year-olds new to the sport!
Complementing junior cricket, Dynamos provides children with a more social offer focused on developing fundamental movement skills and applying them in an exciting game of countdown cricket.
We know how important it is to look like the heroes of the game, so every child who registers will receive their very own Dynamos Cricket New Balance t-shirt, personalised with their name and number.
The programme
Children will use soft balls and light wooden bats
8 x 60-minute sessions
Introduction to game play through a countdown cricket match
New Balance personalised t-shirt with name and number
Valuable time with your kids – parents/guardians are encouraged to take part too
Complementary digital app experience
Exclusive access to Topps Cricket Attax cards
Dynamos Cricket is fully inclusive and designed to support a wide range of abilities, disabilities and different learning needs
Safe and fully accredited
Safe and fully accredited
Both All Stars & Dynamos are run at Lapworth Cricket Club every Monday night starting at 5pm and you can register your child via the ECB app – the courses cost just £40 so just £5 per week and in addition your children receive all the personalised kit detailed above. The new 8-week session commences Monday 11th July to 29th August 2022.
The attached poster has links that will take you directly to the ECB registration app to enable you to sign up your child/children.
The place to be on a Monday night is Lapworth Cricket Club and you can even enjoy a drink while your children are having a great time.
Need more information then contact Richard Evans 07739 430463.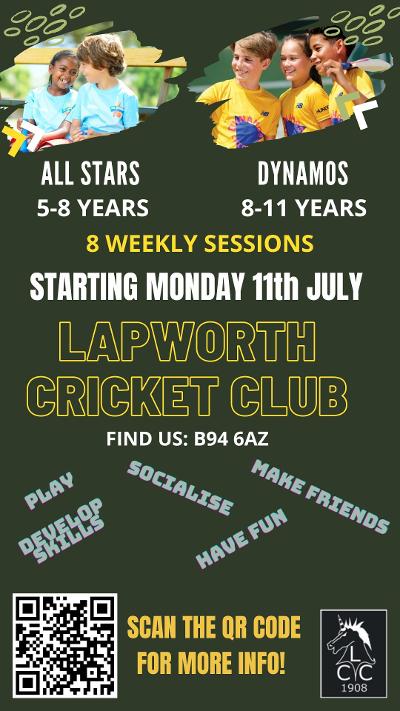 ---
 
Festival sites in Warwick and Royal Leamington Spa
14th June 2022
There are just over 40 days to go until the opening ceremony of the Birmingham 2022 Commonwealth Games. If you don't have a ticket and still want to be part of the action during Games time, there will be festival sites in Warwick and Royal Leamington Spa where you can experience all the action.
From Thursday 28 July – Monday 8 August, there will be two festival sites in Warwick District, one in Pump Room Gardens in Royal Leamington Spa operated by Warwick District Council and another in Market Square in Warwick operated by Warwickshire County Council; both will have big screens, open from 10am – 10pm and are free to attend, to celebrate the region's hosting of the Birmingham 2022 Commonwealth Games.
The festival site at the Pump Room Gardens will have several activities for families as well as an opportunity to try bowls at one of the pop-up bowls greens provided by Bowls England, where you can challenge your family and friends and get a feel for the sport. There will also be a great choice of food and drink stalls available at the site.
Ahead of the Birmingham 2022 Commonwealth Games opening ceremony on 28 July, there will be a jazz and samba band, dancers, stilt walkers and jugglers providing entertainment from 5pm before the Opening Ceremony at 8pm.
Cllr Liam Bartlett, Warwick District Council Portfolio Holder for Economy and Culture, said:
"Come down to the Commonwealth Games festival sites in Warwick and Royal Leamington Spa this summer to experience the atmosphere and big moments of the Games, where there will be something for everyone, from having a go at bowls to relaxing in the Pump Room Gardens with a picnic."
Cllr Heather Timms, Warwickshire County Council Portfolio Holder for Environment, Climate & Culture, said:
"We are very happy to be working with our partners at Warwick District Council to deliver these festival sites for the duration of the Commonwealth Games. The sites in Warwick and Leamington will bring the excitement of the Games to our residents and let them be a part of this once in a generation spectacle of sport and entertainment. From the opening ceremony on Thursday 28 July to its close on Monday 8 August, we hope as many of our residents as possible come out to enjoy the carnival atmosphere at our live sites."
At the Leamington Spa site on Saturday and Sunday over both weekends of the Games, there will be activities for children between 10am – 12pm, 2pm-4pm and 6pm-8pm, including medal making, creating commonwealth countries' flags and bunting and much more.
The festival site in Market Square, Warwick, will be open daily from 10am to 10pm, with refreshments available from local businesses. Further information relating to this site will be announced closer to the Games.
In addition to the festival sites, CultureFest will take place from Saturday 16 July to Sunday 21 August 2022. Showcasing and celebrating the arts and heritage venues, artists, and creatives in the area, with events and activities taking place across Royal Leamington Spa, Warwick, Kenilworth and Whitnash.
CultureFest aims to encourage the people who live, work and visit the area to discover or rediscover world-class venues and artists across the four towns, finding new stories and experiences by young people and emerging talent.
For further information on the festival sites, visit www.warwickdc.gov.uk/cg2022.
For further information on Warwick DC CultureFest, visit www.warwickdc.gov.uk/culturefest.
---

 

Weekly Update from the Leader and Chief Executive

24th June 2022
Whilst out enjoying our parks, gardens and woodlands this sunny week, we hope you've noticed the thoughtful and creative ways the Green Spaces Team have made safe havens for bees, moths, butterflies and other insects to thrive, as part of the buzz for National Insect Week. Schemes to protect and attract our six-legged friends, include the proliferation of wildflower meadows, beds bursting with pollinator friendly plants and blooms, as well as selective mowing to extend the areas of long grass; all of which significantly improve the natural habitat and biodiversity of our open spaces.
Although we no longer receive regular local Covid updates, nationally infections are up by more than 40%, with hospitals reporting a 30% increase in admissions according to the latest figures from the Office for National Statistics. It remains important that we continue to take precautions, particularly if we're in contact with more vulnerable members of our community. We've got such an exciting summer ahead, we don't want Covid to spoil the fun.
In other news:
Walking in the beautiful Oakley Wood will be made more accessible throughout, thanks to a major upgrade of the main path network, starting next week. The completion of two seasons of woodland thinning, a process of clearing conifer trees to make way for the return of native broadleaved trees, has given the Warwickshire Wildlife Trust the opportunity to create a 3,300-metre stone pathway around the wood.
Investment in our local leisure centres continues, not only with the imminent £multi-million redevelopment of the Kenilworth facilities, but now also an upgrade to the gyms at Newbold Comyn and St Nicholas Park with brand new strength and cardio-vascular equipment being installed by Everyone Active, hooray!
The much improved and extended Heathcote Community Centre (formerly Warwick Gates Community Centre) will be opened at a Fun Day on Sunday 3 July, 12.30-2pm. The creation of a versatile, new central hub for this growing community has been led by Heathcote Parish Church supported by grants from developers L&Q, the King Henry VIII Endowed Trust as well as £150k from our community infrastructure fund.
Today, Councillors are joining the Friends of Victoria Park to official opening of the wonderful new play area, which boasts a bespoke tree house, trim trail, zip wires, wheelchair carousel and trampolines. While you may have missed out on opening celebrations, please come and visit this wonderful new facility which is a lasting legacy for our community to enjoy from the Commonwealth Games.
And finally … we were delighted to see yet further national recognition of our beautiful corner of England with Kenilworth named as one of the best up-and-coming areas to invest in the UK, by the Sunday Times. The town's inclusion reflects new infrastructure, interesting shops and good restaurants, attributes which mean that it is quickly catching up with neighbouring rivals Leamington Spa, according to the author!  (Now, there's a challenge).
Andrew Day   Leader                                  Chris Elliott    Chief Executive
---
THE LAPWORTH CHARITY
VACANCY AT POUND CLOSE ALMSHOUSES
There will soon be a vacancy at the Pound Close Almshouses, which we expect to be available within the next few months.  The accommodation  consists of a ground floor flat comprising a living/dining room, kitchen, bathroom (wetroom) and one bedroom, designed for single occupancy, but couples may be accepted.
Applicants are usually resident in the Parish of Lapworth at the time of appointment, normally retired and have limited financial resources.  Residents must be able to live independently, since no care or other services are provided.  Pets are not normally allowed at Pound Close, unless exceptionally agreed with the Trustees.
Further information and application forms are available on our website www.lapworthcharity.com , or by contacting the Secretary/Administrator to the Lapworth Charity:
Mrs Helen Wollerton
Tel:      01564 784193
Email:  lapworthcharity@gmail.com