A PORTRAIT OF LAPWORTH
by
JOY WOODALL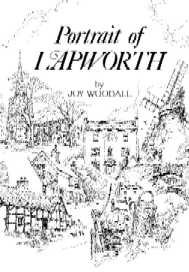 This book records the history and topography of the village of Lapworth, situated at the heart of the ancient Forest of Arden.  Iron Age people built a fort here and the Romans had kilns for making both pottery and tiles.  From 816 to 1036 the Bishops of Worcester were the lords of Lapworth and later, medieval lords established a hunting park with a moated gatehouse. But it is the lives and homes of the ordinary people, particularly those of the 18th and 19th centuries, which has especially interested the author.
At the beginning and end of the book we see the parish through the eyes of Owen Bonnell, curate there in the mid 1700's, and Robert Hudson, canal manager in the late 19th century.  These narratives frame an extensive and detailed picture of life in the per iod 1750 to the 1890's: the hopes, pleasures and anxieties of the people; the farming pract ices, the trades and tradesmen, the church, the school and that ever present concern of the parish – the poor – and how they were helped.
A book for everyone, general reader, genealogist and local historian.
A4 Hardback 128 Pages Profusely illustrated with 7 maps, 9 photographs and 50 line drawings by local artist George Busby.
£14.95 + £4.00 (G.B.P.) postage and packing (local deliveries can be arranged)
May be ordered by sending cheque/postal order made payable to: Joy Woodall, P.O. Box 1339, Warwick, CV35 7ZQ
Read about the History Group in regular articles which appear in the Ferncumbe News, Lapworth Parish Magazine, Parish News for St. Giles Packwood and the Solihull edition of Your Call.