An ideal venue for all special occasions and social functions from wedding receptions to jumble sales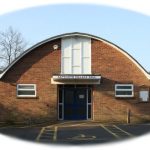 Lapworth Village Hall, Old Warwick Road, Lapworth, B94 6LD
Lapworth Village Hall is at the heart of the community and is used for many functions and events.  Wedding receptions too are often held in the hall.  127 square metres of floor area means that there is plenty of room to lay out the tables in an attractive way.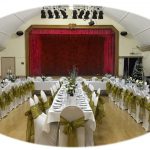 Booking enquiries to Mrs Sue Hunt by phone on 01564 638638 or by email to sue.suehunt@tiscali.co.uk.  A copy of the booking conditions can be found here.
When you have established hall availability and prices from the Booking Secretary, complete the booking form and return it with your deposit to the address on the form.
Prices are per session
Main hall
(inc. stage)
Committee
Room (each)
Kitchen and
facilities
Bar and
Glasses
9:00am – 1:00pm
£60
£40
£40
£35 (inc. license)
1:00pm – 6:00pm
£75
£40
£40
£35 (inc. license)
6:00pm – 12:00am
£80**
£40
£40
£35 (inc. license)
6:pm – 12:00am (Sat)
£100
£50
£40
£35 (inc. license)
**Shorter periods may be charged on weekday evenings @ £20 per hour (Minimum 3hrs)
Digital Projector: £15 per session (Not available for parties)
Deposits – Refundable after the event if there has been no loss or damage:
| | |
| --- | --- |
| Digital Projector : | £50 |
| For room hire up to £200 : | £75 |
| For room hire £200 or more : | £200 |
Deposit must be paid at the time of booking and is in addition to room hire charges which must be paid at least 14 days before the hire.
Lapworth residents should contact the Booking Secretary to determine local rates.